THE DEBUT ALBUM "POP COUTURE" WILL BE OUT ON OCT. 16th
Its name is "Pop Couture" and it is the record debut album for Sinner, out on October 16th 2015 in all digital store.
The same date for the launching of"FASHIONISTAR" a brand new music video with a premiere on VEVO.
The artist defines his debut album as a 'tailoring item, rich of details and refinement. A very careful work aimingat perfection'.
The eight tracks in "Pop Couture" are produced by Raf Jackman (who signs them with Sinner) and mixed by:
Phil Tan (winner of three Grammy Awards and twenty-six singles at the number one of Billboard's Hot 100 chart, among which 'Diamonds' by Rihanna);
Koen Heldens (Timbaland, Beyonce, Jennifer Lopez);
Brian Chirlo (Pharrell Williams, Tony Bennet);
Jean Philippe Bien (better known as 'Killbeatz', from the French Edm scene).
SINNER IS BACK WITH FASHIONISTAR!
An overwhelming dance hit with an international pop touch. Colorful and lively, inspired by the fashion world. Outlined with irony.
Written by Sinner with Raf Jackman and mixed by Phil Tan (winner of three Grammy Awards and twenty-six singles at the number one of Billboard's Hot 100 chart, among which 'Diamonds' by Rihanna), Fashionistar give at once the idea what the people should expect : pop dance and fashion-art immersion, 90s influences and a bit of nowadayssensational colors.
Fashionistar will be out on April 1st and will be available in all digital stores.
POP HAS NEVER BEEN SO FASHION!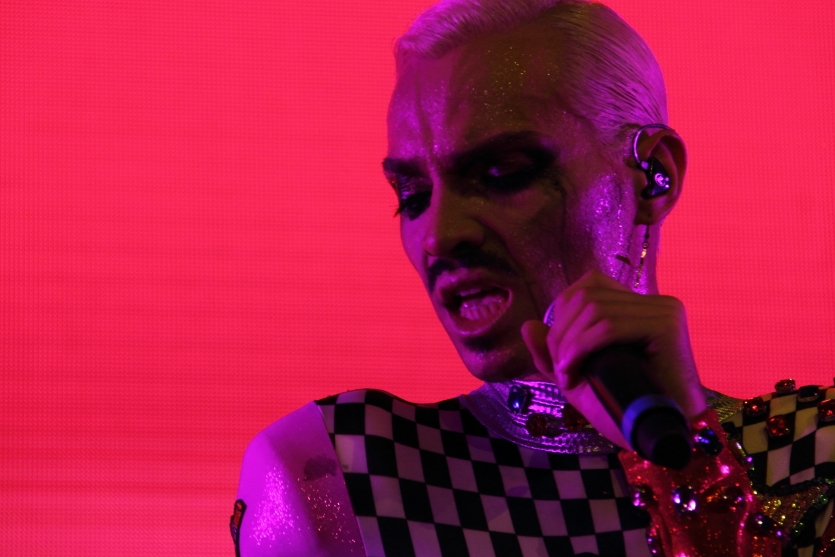 ROLLING STONE / Italy
"Sinner, the proud outrageous, thinking of you"
vanity fair / Italy
"Sinner, in esclusiva il video Fashionistar"
MARIECLAIRE / Italy
"We are all Sinners"
GQ / Italy
"Lose control on the dancefloorwith Sinner!"
REPUBBLICA / Italy
"Sinner, la nuova favola Pop"
360° MAGAZINE / USA
"If Rihanna and Britney had a baby, this would be their offspring"
QWEEK MAG / France
"Découvert: Sinner"
THE FREAK / Italy
"I often take a shower with Beyoncé"
OUTinPERTH / Australia
"Sinner is possibly answer to Lady Gaga"
PopCulturegay / AuS.
"Imagine this: Simon Curtis, Mika, Jake Shears and Lady Gaga had an orgy and produced a child, Sinner is that child!!"
HE'S JUST A POPSTAR!
An artist, a hundred thousand artists in a single artist. An ecclectic artist with a black voice, but also a dancer, transformer, performer.
"Time may change me, but I can't trace time". His religion is the metamorphosis, the incessant anxiety to be ahead of the ages. The transformation is only the most visible of the arts by this artist indecipherable, the representation of all the fascinations and contradictions of Pop.
His use of bold image, his ostentatious artificiality, his desire to be avant-garde artist selling himself to the public as a Broadway starlet. He is the first in Italy to be able to conceive of Pop as "global art", opening to contamination with the music hall, dance, fashion, the visual arts. Sinner was born in the electro-pop clubs of the Italian scene. With his show, the stage is invaded by futurist aesthetics but, at the same time, by film memories and glam art. His musical imprint covers different genres as glam-rock, synth-pop, neo-soul and dance.